In software companies, a common concern arises: how to find clients? While it may seem straightforward — great software should attract clients — reality often proves otherwise. In today's world, technical skills alone aren't enough to draw clients in. That's why the question of how to get clients for a software development company is so relevant.
Many believe clients already know what they want. But, it's on you to showcase your worth and how you can solve their needs.
Seeking new clients? Define your goals. Drawing attention isn't the same as securing clients. Don't just rely on ads and content. Align with client expectations, find them, and highlight your value.
You may have already asked yourself, "How to find clients for an IT company?". Perhaps you are thinking about this question for the first time. One thing is clear, if you are reading this article, it means you are looking for solutions to get the desired level of clients on a stable basis.
What Challenges Do Software Development Companies Face in Finding Clients?
The process of procuring new clients for software companies can be riddled with complexity, uncertainty, and leave you feeling perplexed.
Finding clients can be daunting, filled with questions:
What's your position in the market? Who are your ideal clients?
What methods and tools should you choose to find clients? Are you interested in B2C, B2B, startups or a mix of the two?
How do you properly structure your process?
How can you attract clients from new industries or increase the average transaction size?
Will marketing spend be worthwhile? What's the right amount?
How can you showcase NDA-protected project cases?
How can you reach clients who haven't yet recognized their need for your services?
Why do your competitors secure clients while you struggle?
What about leads you've invested time in but are stalled in negotiations?
Why do small software development leads come to you when you're targeting larger ones?
Despite these challenges and uncertainties, it's important to emphasize that they are just one step on the path to achieving results.
Identifying the right problem is half the solution.
Don't linger in a sea of questions and doubts for too long. Solutions exist, and we're here to help you discover them.
In summary, to address these questions, you must:
Define your goals.
Establish your positioning.
Develop a marketing strategy.
Allocate resources.
Create a process for engaging with all stakeholders.
Execute the strategy.
Stay vigilant.
Analyze progress.
Adjust as necessary.
It may seem like answering these questions is just time-consuming, but it will save you time and money in the future when you try to get clients for a software company. We can help you find some of the answers right now.
Software Development Company and Its Clients
Nobody builds a sustainable business by shouting, "Does anyone want to buy anything from me?"
Understanding who you are and who your target audience is are essential for an effective marketing strategy.
Who Are You?
Start by gathering information about your company's current state. What are your experiences, projects, specialties, and aspirations for the future?
Here are 13 details that will describe your software company:
Experience: How many years have you been in the market? Describe your stages of development, the company's origins, and your values.
Region: Describe the regions in which you work. Do you have offices in multiple countries? Identify the regions you are interested in for clients and your current working regions. If legalities are stopping you, take legal advice and let your business grow.
Time zone: Check your watches. Determine the time difference with the countries you want to work with. How much time for online communication can you allocate for different time zones? Time differences should not be a barrier to interacting with clients. Can you offer clients support, assistance and communication online. Do you have employees who are willing to work outside of standard work schedules?
Language: Ensure that language barriers won't hinder project implementation. Misunderstandings at the level of language and contexts can reflect badly on the result of the work, even if you are experts in development.
Employees: Describe your team. How you select your employees. Their work experience, requirements for candidates. What training your guys receive. How you invest in the development of your team.
Financial performance: Don't leave your financial figures unattended. These are figures that will help you assess the current state and stability of your business. If the available and desired figures differ, you need to look for solutions. It may be time to increase the number of projects or their cost, reduce costs or optimize work processes, review service packages and other options.
Projects: Describe what kind of projects you have worked with. Startups, businesses or corporations. What industries they come from. Note which ones were the most interesting to work with or which direction you want to choose as the central one. What well-known companies, brands you have worked with.
Pricing model: Ensure flexibility in your pricing to cater to a range of clients without compromising your value. Determine if you work in a Time and materials approach or if you have a fixed price. By offering different price tiers or different customizable options, you can cater to a wider range of clients. Incorrect pricing can attract clients who don't fit your target audience, undervaluing your services. Or perhaps the price is overpriced and clients don't come. Price is the filter that defines your target audience, your experience. Look for a balance.
Ways to communicate: Make a list of messengers and technologies for communication and workflow. Write out all the ones you use. For example, Slack, Zoom, Jira, Redmine, Basecamp, MS Teams, Google Meet, ClickUp, and any other tools. And if any of your potential clients aren't in the programs you use, offer to train them and connect them to the service. Show how readable your reports are already set up, get the client interested. Or show your readiness to start using the services your client uses.
Interaction models: Offer various engagement options, from implementing existing documentation to full project control. Or you can provide a dedicated team.
Awards: Collect your awards. Describe them. Perhaps you have awards, but you haven't given them much thought. It's time to remember them. Awards build credibility. Everyone enjoys working with industry leaders. If you don't have awards, think about where you can get them. What steps do you need to take to get on the lists and rankings of the top companies?
Testimonials: Gather existing feedback from clients. Analyze them, you may be missing some of your strengths. Think about which projects you don't have feedback from and discuss with them how you can get that feedback. Seek feedback from your past or current clients. This will help you objectively know how you are seen. Look at yourself through the eyes of another. Sometimes within the process, you may not see the important things.
Area of expertise: The image below showcases software development company specializations: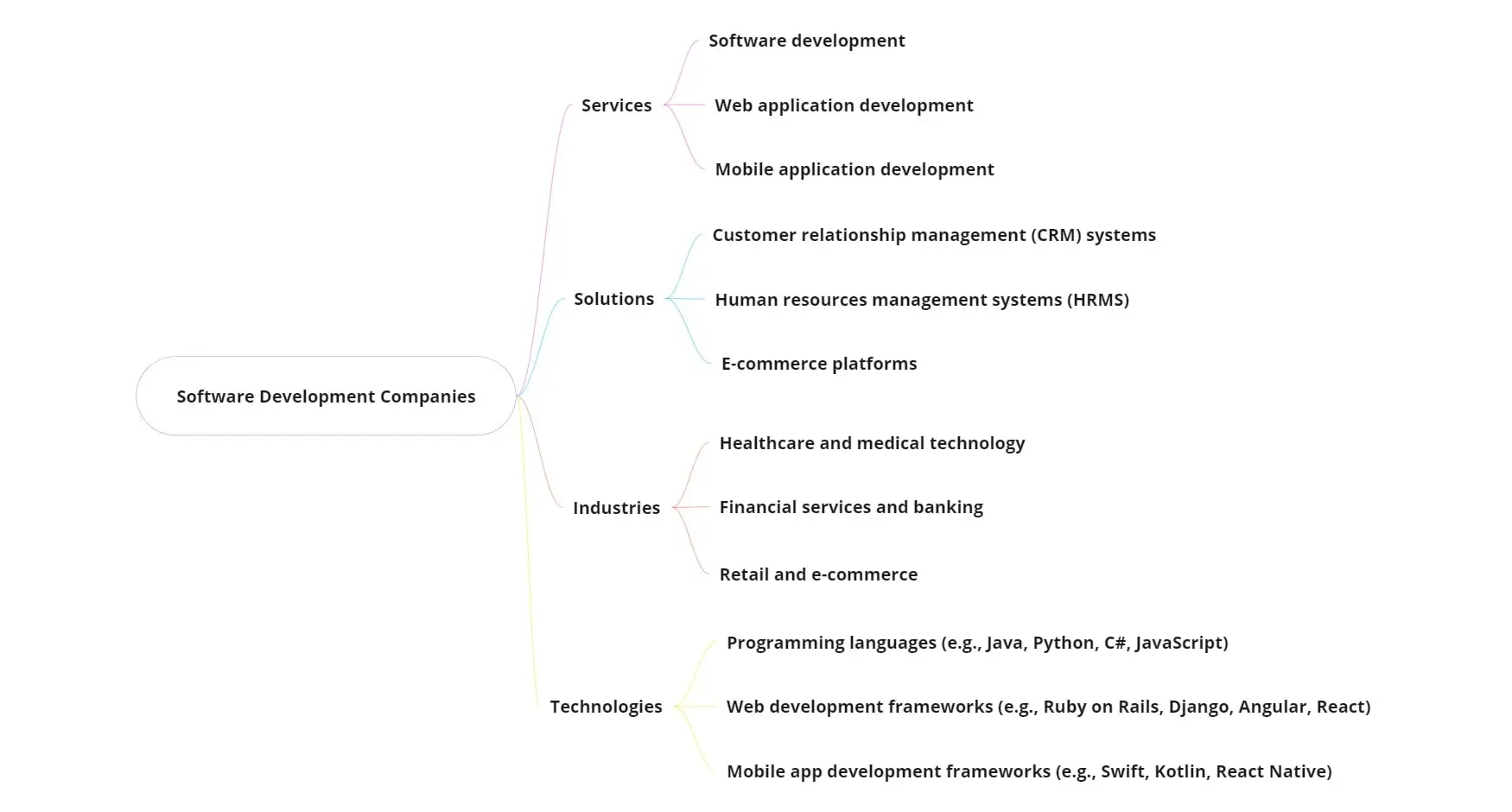 Study the chart. Perhaps you will structure some things for yourself or find yourself an expert in a field that you have previously missed. For example, you already have two projects for a logistics company, and you haven't described these cases yet. It's a good time to analyze your skills.
The categories presented in the diagram are not mutually exclusive. Many software companies may operate in more than one category or offer a range of products and services for different needs.
Let's look at some examples of software company characteristics below. On the left will be a description of the actual state. Add to that what one would like to expand their list in the near future. The description of the desired state will be on the right. Just don't go too fast, the expertise decides. Or maybe you don't need to add anything if you have a clear expertise. Then strengthen the strong one.
| Current | Desirable |
| --- | --- |
| Name: Company #1 | |
| Region: USA, Poland | |
| Experience: 3 years | |
| Services: Mobile App Development | Services: Mobile and web development |
| Solutions: Food Delivery App, Online Store | Solutions: Food Delivery App, Online Store, CRM, WMS |
| Industries: Retail, Ecommerce | Industries: Retail, Ecommerce |
| Technologies: React Native | Technologies: Python, AI, Machine Learning, React.js, React Native |
| Number of employees: 6 emp | Number of employees: 12 emp |
| Hourly rate: <25 $ | Hourly rate: 25-50 $ |
| Turnover: <10 mill | Turnover: 10-20 mill |
| Name: Company #2 | |
| Region: USA | Region: Worldwide |
| Experience: 9 years | |
| Services: Software development, Mobile development | Services: Software development, Mobile application development, Staff Augmentation, Dedicated Team |
| Solutions: CRM, HRMS, WMS | Solutions: CRM, HRMS, WMS, SCM, Data management and analytics solutions |
| Industries: Financial services and banking, Telecommunications and networking, Logistics, Automotive | Industries: Financial services and banking, Telecommunications and networking, Logistics, Automotive |
| Technologies: Java, Python, C#, JavaScript | Technologies: Java, Python, C#, JavaScript |
| Number of employees: 110 emp | Number of employees: 200 emp |
| Hourly rate: 25-50 $ | Hourly rate: 50-100 $ |
| Turnover: <50 mill | Turnover: 50 mill |
Examples of characteristics of software development companies.
How to Use the Collected Data?
Now you've done more than just describe yourself. You've gathered the basis for a SWOT analysis for a software company. A SWOT analysis is a great way to compile facts about yourself in one place, in a tabular form. It will clearly display your company's strengths and weaknesses, highlighting opportunities and threats that might affect your success. Such an analysis will help your company feel more secure among competitors and react timely to market changes.
Take note of who you are and let's move on to considering the target audience for software development companies.
Who Are Your Clients?
Clients often struggle to express their needs or may not even recognize them yet. They might be unaware of technologies that can simplify their business and free up time for development. Try to anticipate what can assist your clients and think beyond their immediate needs.
To show in clear language your qualities, to feel how your clients think, by what criteria they choose — this is the power of contact.
The target audience for software development companies can be segmented on various bases. Let's explore some of them:
By Size
Small business: Small businesses typically have a limited number of employees and relatively low annual revenues. They have fewer than 50 employees and less than $10 million in sales. They may be local retail stores, small manufacturing companies, small service providers, restaurants.
Midmarket: They usually have a moderate number of employees and generate higher revenues. Less than 250 employees, less than 50 million dollars in company turnover. For example regional marketing agencies, mid-sized e-commerce companies, construction firms.
Enterprises: These are multinational or national companies with a significant number of employees, extensive operations, and substantial annual revenues. Employing more than 250 people, the company has a turnover of more than $50 million. These can be global technology conglomerates, financial institutions, large healthcare providers, international retailers.
By Business Type
Startups: Innovative companies that often need to create a minimum viable product (MVP). For this group, you need to demonstrate benefits such as cost savings and offer development in a short timeframe.
Consumers of in-house software: Companies for whom you need software for internal use. They may have a need to update existing resources or create new ones for their business needs.
SaaS: Companies that provide cloud-based solutions. Users access the product remotely via web browsers or mobile devices, bypassing the need for local installation and maintenance. They are accessible from anywhere there is an internet connection.
Resellers: These can be resellers who purchase developer services to resell to their clients. Or partners who share a big project and you can help them develop it. To attract this group, software companies should talk about their expertise in development, the benefits of their product, its ease of use. Talking about your company's efficiency, reliability, and expertise is what they expect from you.
Public sector: Government and public agencies that require software solutions for citizen services, administrative processes, data management, and public infrastructure management.
By Software Availability
Companies that already have software: These may be companies that are looking to refine, upgrade their software. The marketing message for this group should focus on the benefits of modernization, increased efficiency and security.
Companies that need software development: Many companies need specialized software to manage internal operations or for business development. This group is looking for software customized to their individual needs.
By Industry
Software companies often target specific industries or verticals where their products or services are most relevant. The most commonly identified sectors are healthcare, finance, e-commerce, manufacturing, education, and others.
By Client Location
Despite the lack of physical boundaries for development services, you need to consider geographical factors — regions, countries, cities. There are market peculiarities for technology companies. For example, some customers like to work with localized performers. As a development company, you can single out one country, several countries or entire regions. The best known regions are:
DACH = Germany, Austria, and Switzerland.
EMEA = Europe, the Middle East, and Africa.
APAC = Asia Pacific.
LATAM = Latin America (South America).
NA/NAFTA = North America.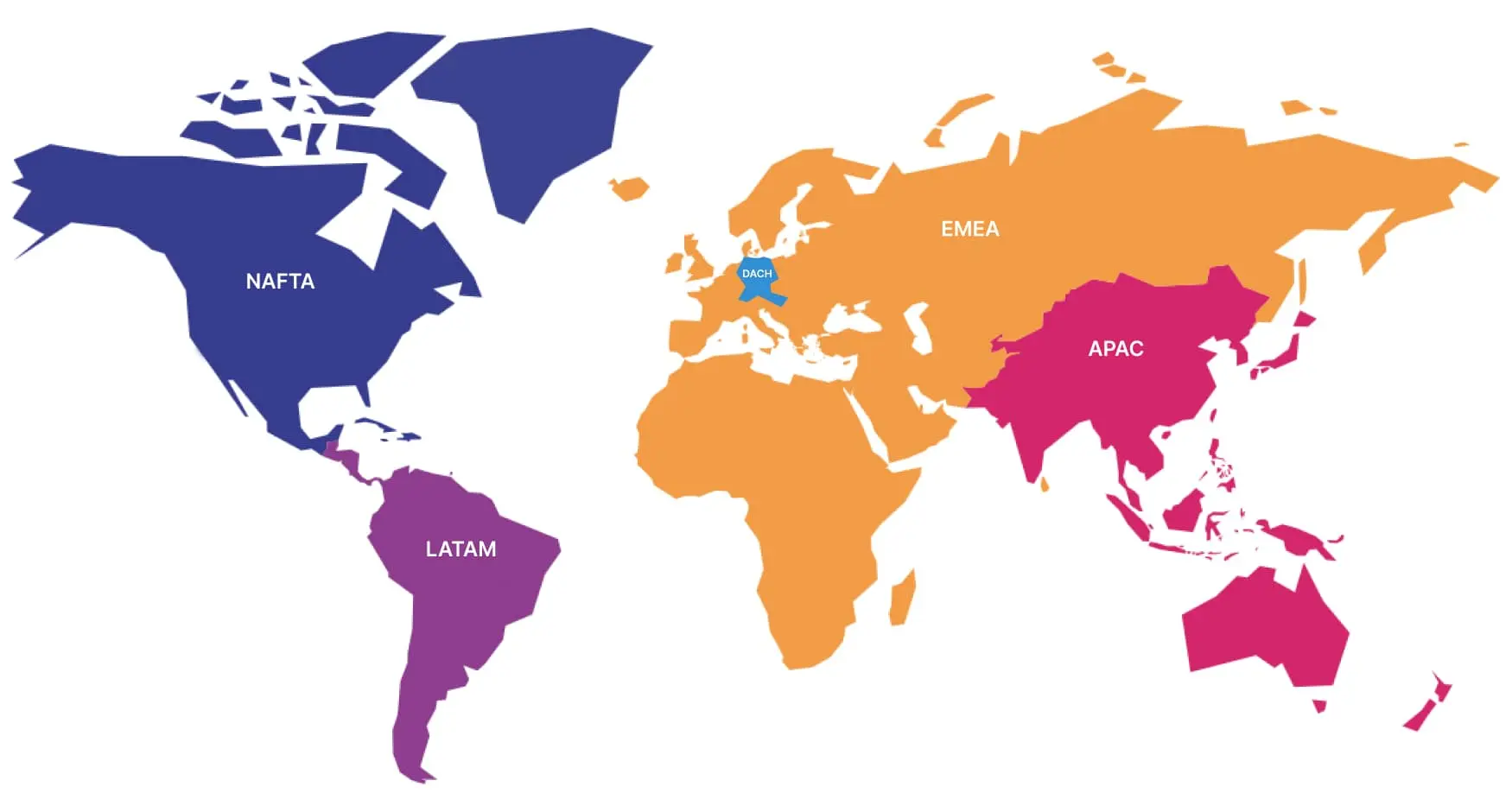 For the entire list of regions, see the article.
Decision Makers
When profiling the companies you want to work with, don't miss an important factor — the decision makers. Understanding their needs and interests is essential to successfully offering your software solutions.
If it's the CEO or owner of the company, his or her interests are in scaling the business or increasing the check, to generate more revenue. If it's the CMO, his goals are set by management — meeting sales targets, getting a certain number of clients within a certain time frame. Your strategy for communicating with the client and delivering your value to the client will depend on the goals that need to be closed.
Drawing a Portrait of the Target Audience
If your existing clients are entirely satisfied with your services, you already have a pre-established target audience from which you can construct a profile for your marketing strategy. And use this data in lead generation strategies for software companies. Seek out companies that resemble your current clients.
If you aim to expand your target audience, examine competitor profiles on Clutch. Find companies that closely resemble yours. Analyze them based on their cases: who their clients are, what's mentioned in their reviews, the challenges they address, and specific moments of interaction they highlight.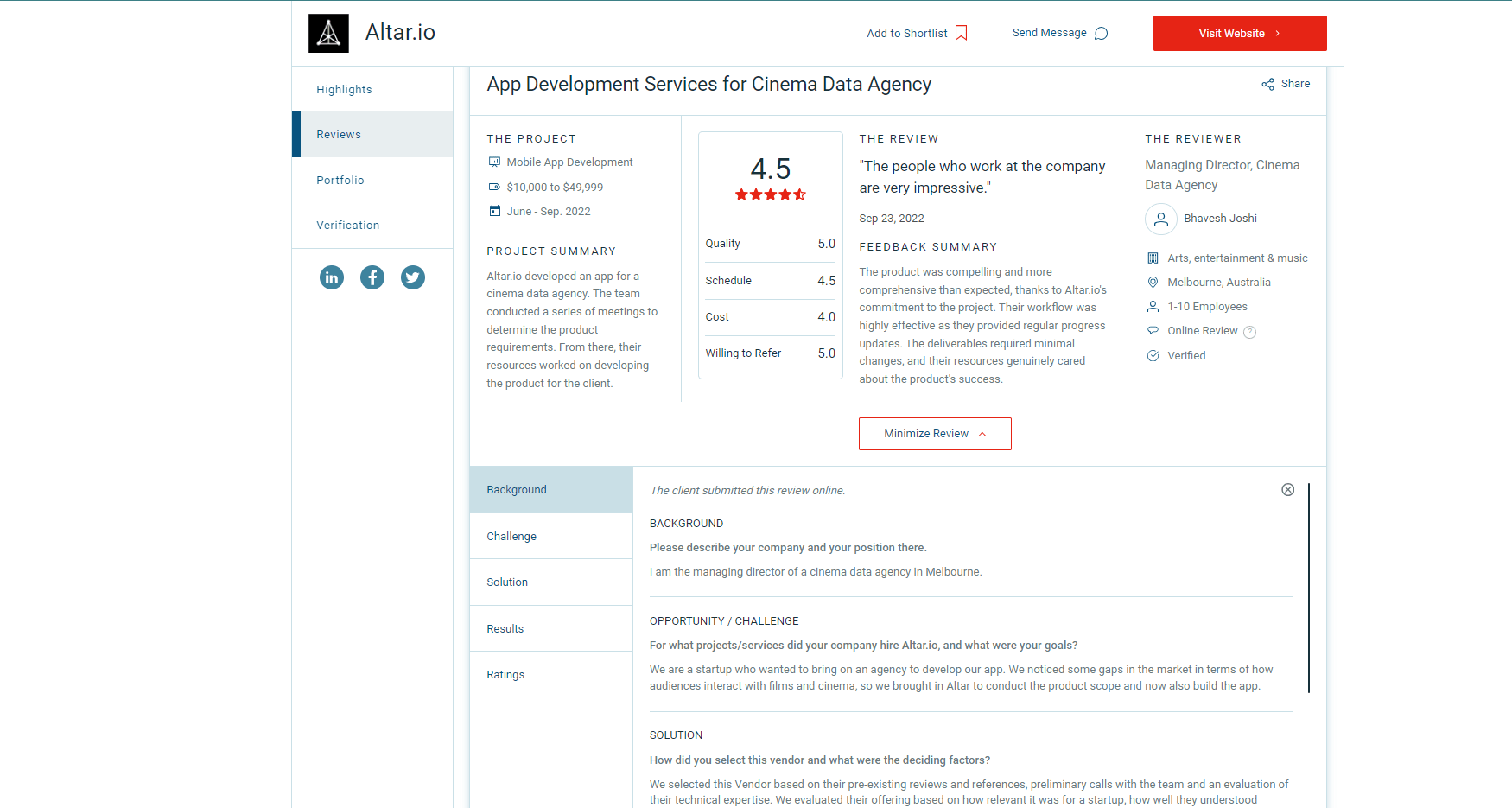 Identify the clients of your competitors that you're interested in. Clearly describe their profiles. Understanding the unique needs, pains, and questions of your target audience will help you craft more effective marketing strategies that resonate with the right clients. This way, you'll attract a similar audience.
Consider describing two portraits of potential clients for a software development company.
Client #1.
Description: A mid-market company from Germany specializing in the production of auto parts.
Request: The company needs to update in-house software that helps in automating production workflows, inventory management and supply chain logistics.
Selection criteria: They value the client's experience in developing enterprise-class software that can process large amounts of data, integrate with existing systems, and provide real-time analytics to make accurate and timely decisions. It is important to them that communication is maintained during their region's business hours. Communication in their native language is important. Data security and privacy is important to the client.
Client #2.
Description: Small SaaS company in the e-commerce industry from the US. Technically savvy and understand the benefits of cloud-based software solutions.
Request: Idea to develop an artificial intelligence based platform to help online stores optimize their pricing strategies. Want to create customizable and user-friendly applications that can simplify business processes, increase productivity and provide a competitive advantage.
Selection criteria: Expect the software company to create a user-friendly interface that allows their clients to easily navigate and use the advanced features of their pricing optimization platform. The region of the implementer is not important to them. They have received investment and want to get started as quickly as possible with an experienced team. Looking for young, agile, ambitious developers. Need integration with popular e-commerce platforms such as Shopify and Microsoft Dynamics 365.
Remember, not only should your target audience align with you, but you should also align with them.
The Power of Effective Client Interaction
Here, you've described yourself and your ideal client. Just like the NHL player cards, you have a company card and a client card. Compare the data. Try to figure out where you fit or don't fit together.
Let's take the example of company #2 and client #1 making auto parts.
You have experience in the logistics and automotive industry, and your client is in the automotive parts industry — you should definitely look at each other. You've worked with the banking and finance industry, which means you definitely know a lot about data security and privacy that the client is interested in. If you have overlaps in common, then you may be a good fit for each other. But it's important for the client that the performer is located in their region — in Germany and uses the German language for communication. Then you can hire an employee in their country of interest with language skills to interact with them at a time that suits them. Or you can argue that location is not important because you have German-speaking employees. Then you can arrange communication from your region at a time that is convenient for them, which will reduce the project's cost. Or you can turn down clients that you're not a good fit for in terms of location. Then, adjust the information about your target audience and target those who are right for you.
Let's take the example of company #1 and client #2, represented by a SaaS company.
Despite the youth of your company, you have experience with the industry of a potential client — e-commerce. You are familiar with the intricacies of online store development. You are interested in the high-quality execution of the project to expand and confirm your expertise. The client is focused on developing a platform based on artificial intelligence. And you are actively studying artificial intelligence, keeping up with all the updates, testing its application for internal processes, and are interested in projects using it. You are from the same region as the client. The client is technically savvy, which means you can easily discuss the technology and find better development options by combining your opinions. You're not intimidated by the need to integrate with Shopify and Microsoft Dynamics 365. Your ambition, flexibility, and readiness to start the project soon might interest the client. At the negotiation stage, show the client a little more than they expect — your ideas and solutions for their task. Be engaged, as this can influence the client's positive decision toward you.
Details that fit — highlight as an advantage, describe on the website, communicate to the audience using marketing tools. What doesn't add up — think about whether you want to get there or not. If you want it, then decide how you can get it.
Different combinations of company resources, when correlated with the ideal customer profile, lead to effective communication and enhance the lead generation for IT companies.
If you promote yourself as a company that does development on short notice, then you should always have a backup developer in case of unforeseen circumstances. If you run an ad and you have eight client requests in your mailbox, you must have a robust sales team to handle those requests. If you claim to be a company that cares about the growth and development of its clients, you should offer them a little more than they expect to get from you.
How Can Marketing Help in Lead Generation for IT Companies?
Creating a great software product, defining yourself, and understanding your clients is the first step. Then comes the challenge of disseminating information to get clients for a software company. This task becomes more challenging when competing with other software companies.
Here, marketing plays a crucial role, helping the software company turn potential clients into paying ones.
Marketing tools can help you spread the word:
Website: Create a digital face for your business. The right structure and content will reflect your experience, expertise, and reach your target audience.
SEO (Search Engine Optimization): SEO for IT companies is the main tool for getting traffic from search engines. A highly ranked website provides constant lead generation for a software company.
PPC (Pay-Per-Click) advertising: Contextual advertising works faster than SEO. It allows you to generate IT leads immediately and simulate the results of future SEO.
YouTube: Consider it as the second largest search engine. While not suitable for all software companies, video content is engaging and can explain complex development concepts in simple language.
Content marketing: Showcase your expertise through articles, videos, and e-books. Engage your target audience with valuable information and generate interest in your company through a sound content marketing strategy.
Media and public relations (PR): Increase your company's visibility.
Social media: Demonstrate how you work, your affiliations, and the events you attend. This builds trust in your company.
Platforms for finding clients: List on specialized platforms such as Clutch, GoodFirms, and others. Keep up with thousands of competitors already leveraging trusted marketplaces endorsed by Google. Strengthen your Clutch profile and expand your online presence.
Forums: Answer questions from your audience to showcase your expertise. Post links to your website or pages with information about your services.
SERM (Search Engine Reputation Management): What clients find about you online shapes your reputation and their relationship with you.
Email marketing: Stay in touch with existing clients and attract new ones through personalized and informative emails.
Direct sales: Get to know your clients. Personal contact helps gather valuable information about client needs, pain points, and preferences. The qualifications and personal qualities of the employee interacting with the client play a significant role in the outcome of direct sales.
Exhibitions and conferences: Meet potential clients, establish partnerships, and discuss your services and experiences.
Partnership: Exchange clients and expand your audience. Collaborate with partners on larger projects.
Lead nurturing strategy: Work with those who don't currently need your services or don't yet understand what you can do for them. Also, maintain relationships with existing clients and offer them additional services.
Participate in open source projects: When your team contributes to popular projects, your company's name becomes associated with quality and expertise.
Influencer marketing: Have influencers who your target audience trusts talk about you. This builds trust in your company.
Inbound/Outbound: Combine different strategies.
The tools listed above are familiar to you. We won't delve into them in detail here. You can find their descriptions in many articles on the Internet. It's harder to find examples. Our article, "18 Best Marketing Strategies for Software Companies," is based on examples from our experience working with software companies.
There are many tools, and therefore many combinations of tools. But that doesn't mean that applying more of them guarantees greater success. When choosing tools, don't chase after using all of them. Make a conscious choice, understanding the results you want to achieve, the number of clients you aim to acquire, and how quickly.
Conclusion
Finding clients is an ongoing journey that demands regular and consistent effort. Don't be intimidated by the many steps involved in a successful client prospecting strategy. Everything may seem impossible until it's accomplished.
After answering questions about your company and your target audience, you'll have a formula for your ideal offering: "We are company X, helping clients of type Y, in situations R, solve problem P, with S, and get value V".
In the pursuit of clients, the energy and efforts of software companies often go in the wrong direction. Meanwhile, true potential clients may be just around the corner. Yes, there's no one-size-fits-all recipe for success here. What works for one business may be useless for another. Remember that attracting and obtaining clients are distinct objectives. Focus your energy on obtaining clients, not just attracting traffic.
In today's fast-paced world of technology, it's crucial to keep up with updates and stay competitive. Don't waste your time researching marketing strategies for your company. Entrust marketing management to experts for effective results.
Contact our team to work on getting new clients.