Whether you want to assess your business, enter new markets, or develop a new strategy, a SWOT analysis is a good start.
This analysis can be easily applied to different interaction formats: B2C, B2B, non-profit organizations, startups, and even personal development. It can even be used to analyze individual elements of your company, such as a website.
SWOT analysis for a software development company acts as a compass. It helps you see the path to success by understanding how to get clients for a software development company and allows you to check your progress.
To succeed in business, regularly analyze your processes. Ensure you operate efficiently. SWOT analysis helps you understand what works well and what could work better.
What is a SWOT Analysis for a Software Development Company?
SWOT analysis is a planning method. It identifies internal and external factors for a company. It divides them into four categories: strengths, weaknesses, opportunities, and threats.
SWOT analysis is useful for all companies, not just new companies or those introducing new concepts. It helps understand strengths and weaknesses.
A SWOT analysis for a software company aids in proper positioning. It creates a perception about your company and services. It makes you stand out from competitors and attracts new clients.
By doing a SWOT analysis, you understand your company's market position. It helps structure information about your company. This analysis aids in developing the best marketing strategy for software companies.
SWOT Decoding
S = Strengths: You will learn your company's internal strength. Is it resources or a strong team? What makes you different from competitors? Knowing this helps strengthen your strengths.
W = Weaknesses: Knowing your weaknesses may seem demotivating, but knowing about them is helpful. These factors slow down the growth of your company. Identifying them helps make a difference.
O = Opportunities: These are favorable external factors. They can influence future business development. But sometimes, opportunities can become threats.
T = Threats: These are negative external factors. They may weaken the company's market competitiveness and lead to lower sales. Identifying threats early gives the company time to prepare.
To make the most of the SWOT method, create an action plan based on intersections. Consider these factors:
SO (Strengths – Opportunities): Leverage strengths to seize external opportunities.
WO (Weaknesses – Opportunities): Use external capabilities to overcome weaknesses.
ST (Strengths – Threats): Utilize strengths to address threats.
WT (Weaknesses – Threats): Address weaknesses to mitigate threats.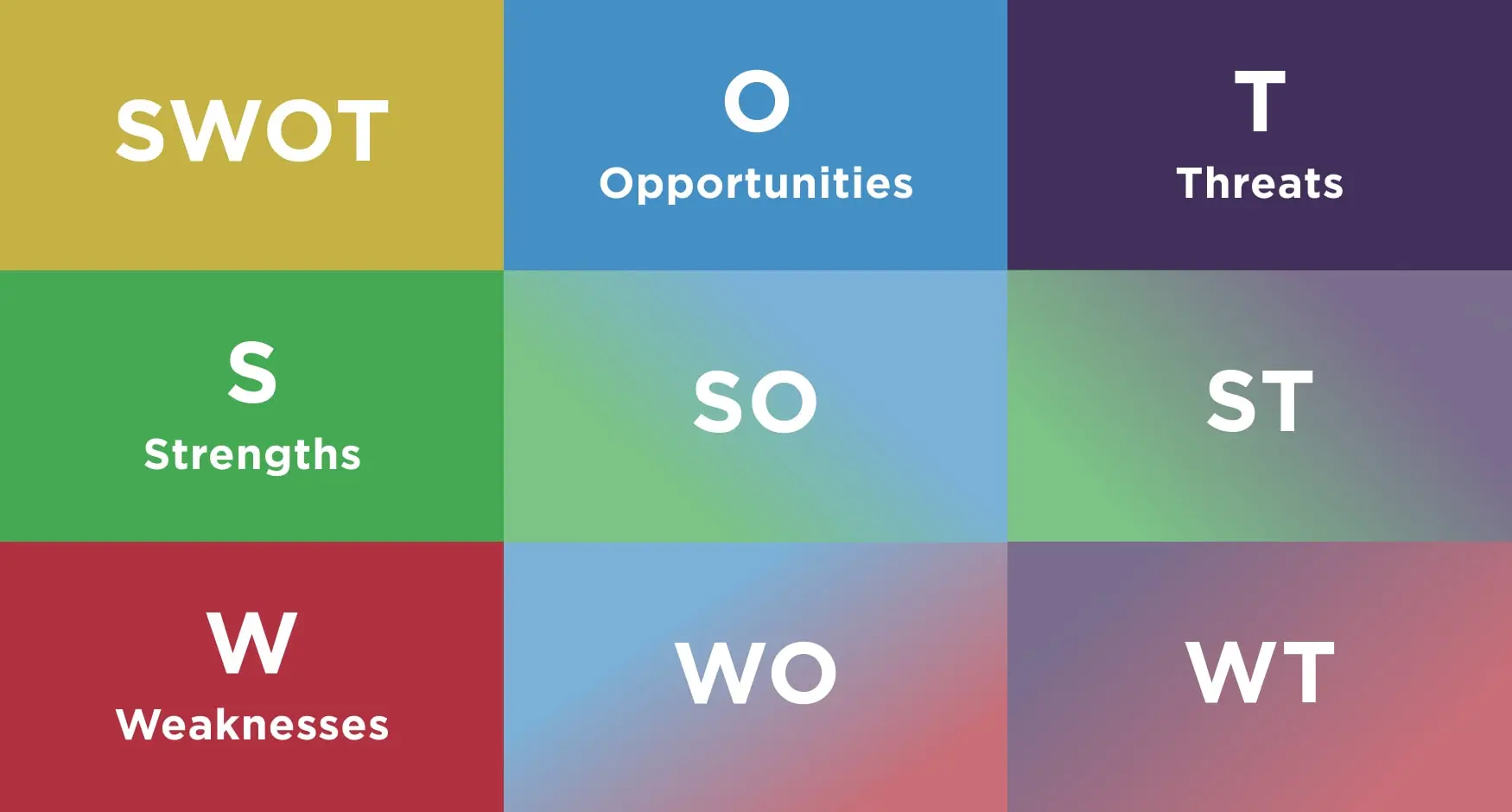 Examples of SWOT Analysis and Its Impact on Company Development
Just as software companies gather technical requirements for projects, you should collect details about yourself in a SWOT table for analytics. It helps you understand where you're going and be cautious.
Let's look at an example of a SWOT analysis table for a software development company:
Strengths
Weaknesses
- strong technical expertise
- innovative solutions
- reliable relationships with clients
- effective project management processes
- language
- experience
- country
- region
- successful projects
- client feedback
- talented and reliable employees
- strong planning skills
- the company's flexibility
- long-term support

- limited marketing opportunities
- small size of the company
- limited financial resources, human, time
- weak relationships with investors
- inflexibility in time zones
- limited specialization
- pricing methods
- lack of awards
- lack of projects in industries of interest
- weak recognition of the company
- high costs
- weak sales team

Opportunities
Threats
- increasing demand for software products
- new technologies, use of artificial intelligence
- expansion of market geography
- work with new industries, programming languages
- partnerships with other companies
- cost reduction

- high competition
- fast technological progress
- economic fluctuations
- political fluctuations
- changes in legislation
- changing business trends
- social issues

Details aren't minor. They matter.
Take time to assess yourself. A SWOT analysis for IT helps solve problems and build on strengths.
Examples of strengthening the development strategy offered for a software company:
SO: Use your flexibility to explore new industries and programming languages.
WO: Partner with other companies to expand projects in your preferred industries.
ST: Leverage technical expertise and innovation for competitiveness.
WT: Strengthen your marketing to maintain stability during economic fluctuations.
During a SWOT analysis, it's a good time to ask yourself:
Where do you want to grow?
What expertise do you want to develop?
Do you want to increase your online visibility, strengthen your content marketing?
Are you happy with your web content?
To expand your tech capabilities, will you train your current team or hire new talent?
To boost company revenue, will you take on more customers? Consider raising your hourly rate or reducing costs?
A SWOT for an IT company is more than just theory. It's a tool we use to evaluate companies, including our own. Our experience with SWOT analysis at our marketing agency highlighted our strengths in SEO, content marketing, and contextual advertising. This led us to focus on serving tech companies.
What strengths does your company have?
The Value of SWOT Analysis for IT
When you do a SWOT analysis, you assess your entire business, both internally (services, marketing, finance, human resources, management) and externally (clients, competitors, market conditions).
The result of working on a SWOT analysis of the software industry is:
A clear strategy.
Effective decision making.
Wise use of company resources.
Clarity in setting goals.
Formation of competitive advantages.
Material for SEO strategy for IT companies.
Controlling risks and unforeseen complexities.
Creative thinking and vision for innovative strategies.
Ability to balance opportunities and shortcomings.
Communication to find solutions.
Continuous growth through constant monitoring of the situation.
SWOT Analysis: Standalone Tool and Part of Marketing Research
SWOT analysis is versatile:
Use it alone for quick assessments, decisions, or idea evaluations. Or do a swot analysis for a software product.
In marketing research, merge data on target audiences, market trends, and competitors into a SWOT analysis for a comprehensive view.
Conclusion
SWOT analysis is more than a tool. It's a window into the future for understanding your business and surroundings.
Strengths, weaknesses, opportunities, and threats form the foundation for your growth strategy.
Information is key. Accurate data enhances competitiveness. Understanding your strengths and weaknesses, client preferences, and market needs prepares your company for growth.
Contact us to strategize your company's growth.