If your company is not on Clutch — your marketing strategy is not right. Getting new clients, increasing brand awareness, trust of target audience — these are the results that Clutch.co for IT companies gives. A detailed study of how the catalog works will give you an understanding of how to get clients using Clutch.
What Is a Clutch?
Clutch is an online directory in the world of IT services. As an information center, it contains data on thousands of IT companies from different countries from development, web design, digital marketing and other IT fields. Clutch acts as an intermediary between clients and brands offering digital services.
Clutch for software development companies is an opportunity to reach clients worldwide.
Clutch on the one hand helps clients to find quality IT service providers and B2B solutions, and on the other hand, helps IT companies to showcase their expertise and gain access to new clients based on reliable reviews and evaluations of their work.
Clutch for IT companies is a powerful marketing tool and a source of free traffic. The site has a total traffic of 2.4 million visits per month.

A profile on Clutch is useful for your company for several reasons:
Keeping up with the competition. Plenty of IT companies are already using Clutch. There are more than 280,000 companies in the directory. Filling out a profile and keeping it up to date regularly gives you an advantage over companies that don't have such a profile.
Many people know Clutch as a well-known resource and go there to look for a performer. The catalog already has ready lists of companies by category, with descriptions, ratings, cases and reviews, which helps the client when choosing a contractor. Since development products require significant budgets, clients want to avoid choosing companies that are not recognized in the industry.
When your potential clients search for the query "custom software development company" on Google or Bing, more often than not, they will get an output result with Clutch at the top positions. Often, clients who found you on Clutch will link to Google because a large number of Clutch visitors come from search.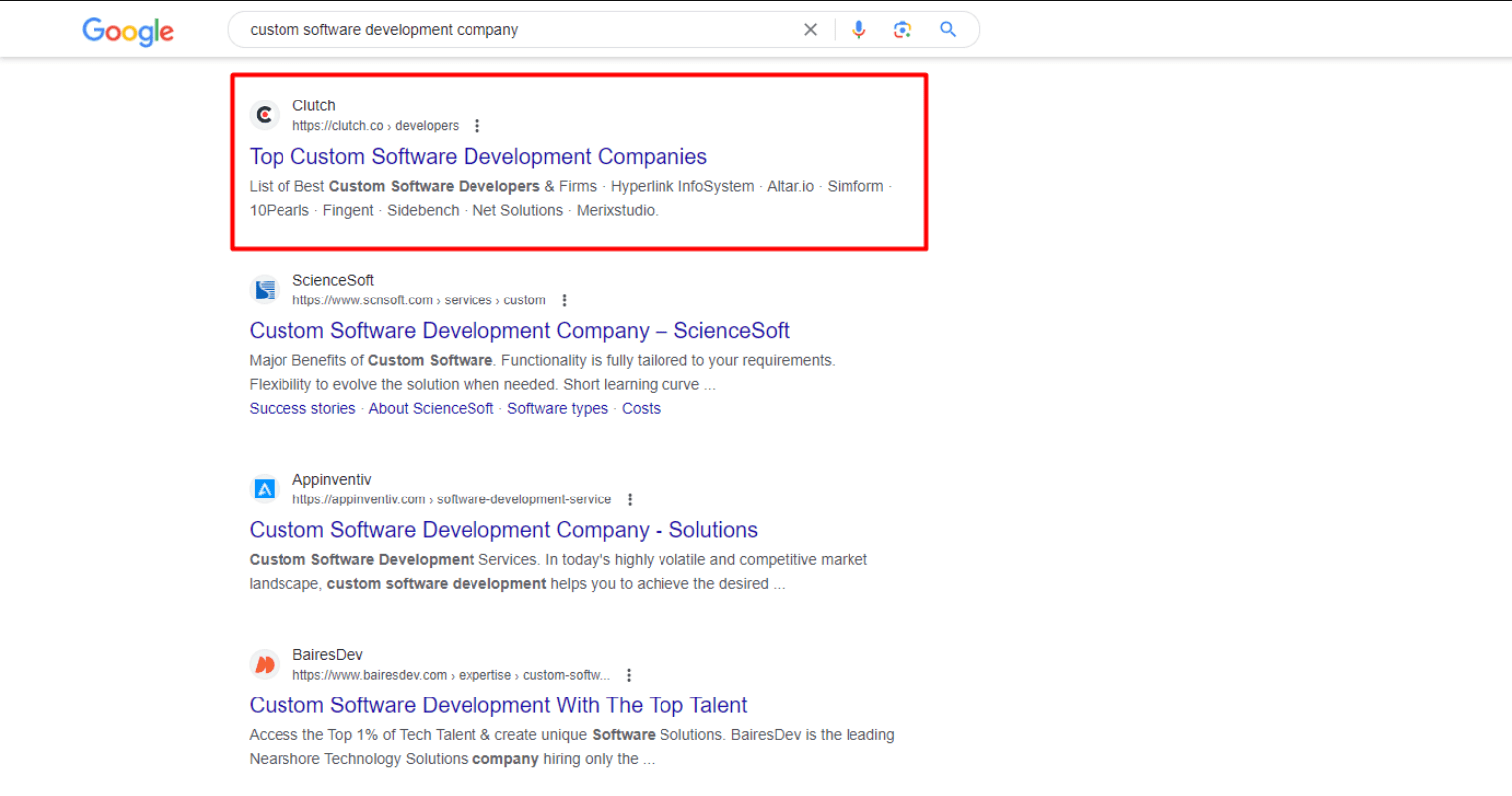 Don't miss the opportunity to become more visible with a Clutch profile. Today, visibility equals success.
Profile on Clutch for Software Development Companies
The way Clutch works is very similar to a professional social network: companies set up their own profile pages. They fill in information about themselves in as much detail and objectively as possible:
Title.
About the company.
Slogan.
Logo.
Year of creation.
Location.
Website URL.
Number of employees.
Average hourly rate.
Minimum project cost.
Packages of services.
Focus of services.
Industries of projects.
Portfolios.
Client testimonials.
Industry recognitions.
Contacts.
The directory has a free listing option as well as paid packages. The paid version adds features:
Unlimited placement in different parent directories and linking to landing pages of your website under each service.
Unlimited placement of case studies and testimonials.
Specifying timezone and social networks.
Utilizing advanced statistics.
Receiving awards.
Connecting Google Analytics to your profile and track data on profile views, website clicks.
The service compiles its own ratings of companies based on your profile data, your chosen service categories, geographic location, skills, testimonials, cases.
Think carefully about service lines and service focus. Advancing into the software development category will be difficult without a large budget. Choose narrower areas: industry, technology, industry, localization. There is less competition in them, so it is easier to get to the top. It is recommended to have no more than 5-6 service lines to ensure maximum visibility on these pages.
It is recommended that you add 6-8 items to your Clutch portfolio. You will need to fill out detailed information about the project for the portfolio, including: title, description, project start and end dates, image or video. Currently, portfolio items without an image or video will not appear on your profile.
Testimonials have a significant impact on your profile ranking. Clutch has a strict review process and the platform is responsible for every review they post. Inclusion in Clutch's top company directory means that the brand is trustworthy and delivers high and quality results in its niche.
To get noticed you need to choose a successful service focus, develop your profile and get higher in the listing.
Profile Ranking
Your position in the Clutch listing is affected by your profile ranking.
Clutch determines directory and leadership matrix rankings based on a variety of factors relating to the companies and needs of the page. Each directory has a ranking formula specific to the purpose of the page, and companies may rank differently on different pages.
The difference between catalog rankings and leaderboards is that leaderboards are based on Clutch rankings only, while catalogs are based on sponsorships and then Clutch rankings.
Common ranking factors include:
Company Ability to Deliver scores, which assess a company's reviews, market presence, clients, and experience.
Information available on each service provider's website and social media, such as case studies, client lists, past industry recognitions, and blogs or other press. This factor takes into account your marketing efforts outside of your Clutch profile.
Information available on each service provider's Clutch profile, such as their description, service focuses, reviews, and locations.
Ability to Deliver Score
Your Ability to Deliver score is a numeric assessment of your company's reviews, clients, experience, and market presence.
The Ability to Deliver score is 40 points and is made up of the following components:
Reviews Score — 20 points. This is where company reviews are evaluated based on their overall rating, relevance, and review status. This is the most weighted metric in the Ability to Deliver rating for a company, and it has the biggest impact on a company's rating. We'll talk more about reviews in the next section of this article.
Clients and Experience Score — 10 points. This assesses the company's past experience based on its clients and projects. For this score, the type and quality of clients you have worked with is important, as well as case studies that demonstrate your experience in different areas. The portfolio section of your Clutch profile is important to assess this factor, keep it up to date. It is recommended that you add more than 8 portfolio items to your Clutch profile and your website to maximize your ranking. The more information you provide in your portfolio, the better your past experience will be evaluated. Be attentive to detail, provide detailed client information and project cost if possible.
Market Presence Score — 10 points. This evaluates a company's online presence, domain authority, industry recognition, and thought leadership. An important factor in your Market Presence Score is the Industry Recognitions section of your Clutch profile. The best way to improve your Market Presence Score is to update the Industry Recognitions section of your Clutch profile. Also, to improve your Market Presence Score, engage in general marketing and SEO activities to increase your website domain authority, provide your social media information on your Clutch profile for additional team evaluation of your marketing efforts, and add information to the Industry Recognitions section of your profile.
Your company's Ability to Deliver score is updated based on data available in your Clutch profile, website, social media and elsewhere.
As your company data changes, so does your Ability to Deliver score. The score is updated in real or near-real time depending on the information provided.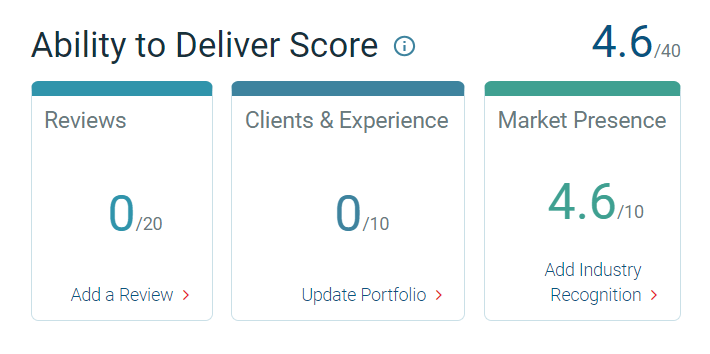 Leaders Matrix
The Clutch Leaders Matrix provides a broad view of the top performing companies in a particular industry or region and helps potential clients evaluate the trustworthiness of the performers and identify the best company to hire.
The ranking of service providers and their placement on the Leaders Matrix is based on Clutch's research in a specific market. Each company on the leader matrix is evaluated based on client feedback, past performance, market presence, and specialization in a particular service area. Companies cannot pay to be in the Leaders Matrix.
Each leader matrix takes into account a company's Ability to Deliver and Focus. Focus is the services a company specializes in. These services are represented as Service Lines in each company's Clutch profile.
Leaders Matrices are interactive graphs that show where companies fall across four quadrants: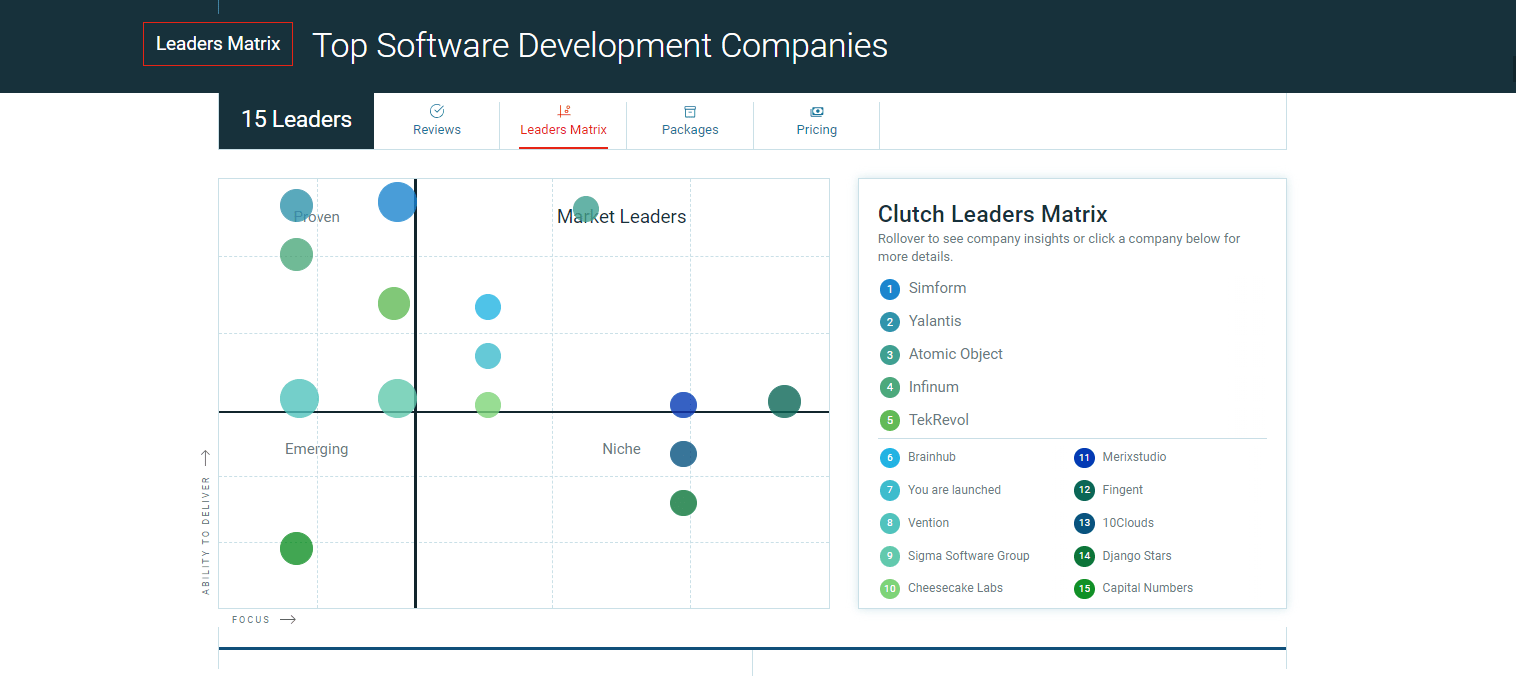 Market Leaders (top right).
Proven Leaders (top left).
Niche Leaders (bottom right).
Emerging Leaders (bottom left).
If the market segment is competitive and there are many companies in it, the matrix will show the top 15 companies.
Significance of quadrants:
| Quadrant | What Does Each Quadrant Mean? |
| --- | --- |
| Market Leaders (top right) | Strongest ability to deliver, high focus on the desired service, received strong feedback from clients. |
| Proven Leaders (top left) | Strong ability to deliver, low focus on the desired service, and received strong feedback from clients. |
| Niche Leaders (bottom right) | Moderate ability to deliver, high focus on the desired service, and received strong feedback from clients. |
| Emerging Leaders (bottom left) | Moderate ability to deliver, low focus on the desired service, and strong feedback from clients. |
Clutch ratings are dynamic and based on data available from reviews, Clutch profiles and other sources (company website, social media, etc.). As the underlying data changes, Clutch ratings and leaderboard matrices may change.
Reviews of Your Company on Clutch
Reviews are an important factor in your ranking at Clutch.
The best way to improve your profile score is to ask for more reviews.
To increase your Reviews score, you can:
Request more reviews: the more reviews you have, the higher your review rating.
Add new reviews more often: Clutch pays more attention to recent reviews. So request new reviews when you complete a project.
Confirm reviews: confirmed reviews are more important for your Reviews score. Make sure your clients confirm reviews when requested.
Clutch collects reviews in two ways: online form and by phone. Phone reviews are only available to Clutch⁺, Sponsoring, or Featured Listing providers. Your clients will need a LinkedIn or Google account to leave a review for Clutch.
Clutch only uses reviews from clients who have hired your company to provide the services you offer. Only clients can leave a review about your company. Clutch collects only one review from each client company. Reviews from both past and current clients are accepted.
All Clutch reviews are organized into 5 main sections:
Background: Information about your company and your position there.
Challenge: The business challenge you were addressing by hiring the vendor.
Solution: The scope of the vendor's services; the vendor's team composition; how you came to work with the vendor; and the dates and cost of the engagement (you may choose to keep the cost confidential).
Results: Evidence of success; feedback on project management; any areas for improvement; and advice for future clients.
Ratings: 5 questions on a half-increment, 5-star scale, including quality, scheduling, cost, willingness to refer (NPS), and overall (which is independent of the previous 4 ratings).
The client can leave feedback anonymously if they wish to maintain their privacy. The client chooses one of four options:
Attributed: The client's name and company name will be posted.
Anonymous: The client's name and company name will not be listed.
Personally attributed: The client's name will be listed, but the client's company will not be.
Personally anonymous: The client's company will be listed, but the client's name will not be.
Reviews recently posted to your company profile will carry more weight than earlier reviews. Reviews also affect a company's visibility on The Manifest's affiliate website.
By investing in Clutch profile development, you automatically develop your profile on The Manifest.
Clutch Paid Packages
The free Clutch profile package has enough features to start strengthening your company's rankings. For advanced functionality, there are paid packages available.
Additional profile levels
Clutch⁺ — for $125 per month.
Features Clutch:
Extended profile fields (time zones; languages; social networks).
Profile verification capability (a profile verification program to confirm that a legal entity is registered and active. Companies verified by Clutch receive a checkmark on their company profile to inform potential clients of their verified status).
Advanced Analytics (advanced analytics on profile data; export profile performance data; unlimited support for accounts, listings, and reviews to optimize your presence; integration with Google Analytics; dedicated support to help with optimizing your profile for your unique goals).
Recommended Review Selection (ability to select the most compelling review to display at the top of your profile).
Customizable marketing tools (widget analytics; personalization of widget colors to better match your brand colors; personalization of case study colors).
Sponsor — starting at $350 per month.
Requirements to sponsor on Clutch:
Offer services, match the pages you want to sponsor.
Location-based sponsorship requires a physical location office and on-site staff.
Sponsor Features:
Ability to be placed at the top of listings.
Profile Verification.
Increased visibility in specialty directories.
Increased visibility on all pages with profile verification.
Additional analytics tracking.
Dedicated client service analyst.
If there are multiple sponsors of the same tier on a page, the order will be determined by the Clutch ranking. The Clutch ranking is dynamic and will change in real time as ranking factors are updated.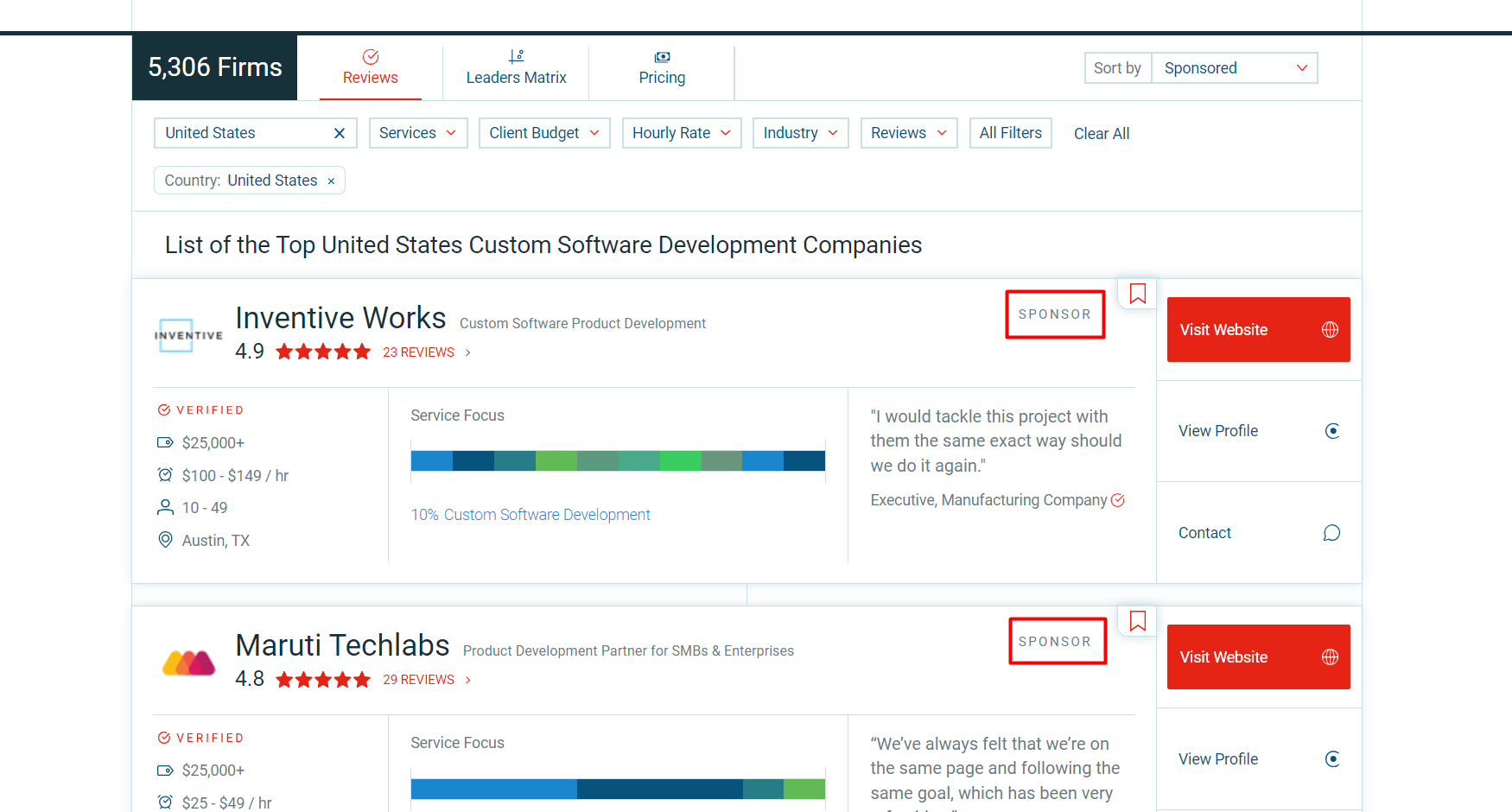 Advertising Packages
City Bundles
Grab the attention of potential clients by listing in all catalogs surrounding your company's location.
Stand out by showcasing your brand to companies that prioritize local partners.
This new sponsorship option is currently only available for certain regions of the United States.

Featured Listings
Increase your company's visibility by placing ads on every page related to your area of expertise across the entire Clutch platform.
Attracting a wider range of potential buyers by targeting your chosen services on Clutch.
Increasing clicks and profile visits by active buyers.
Strengthening your business through positioning your brand on hundreds of pages, no matter where your company is located.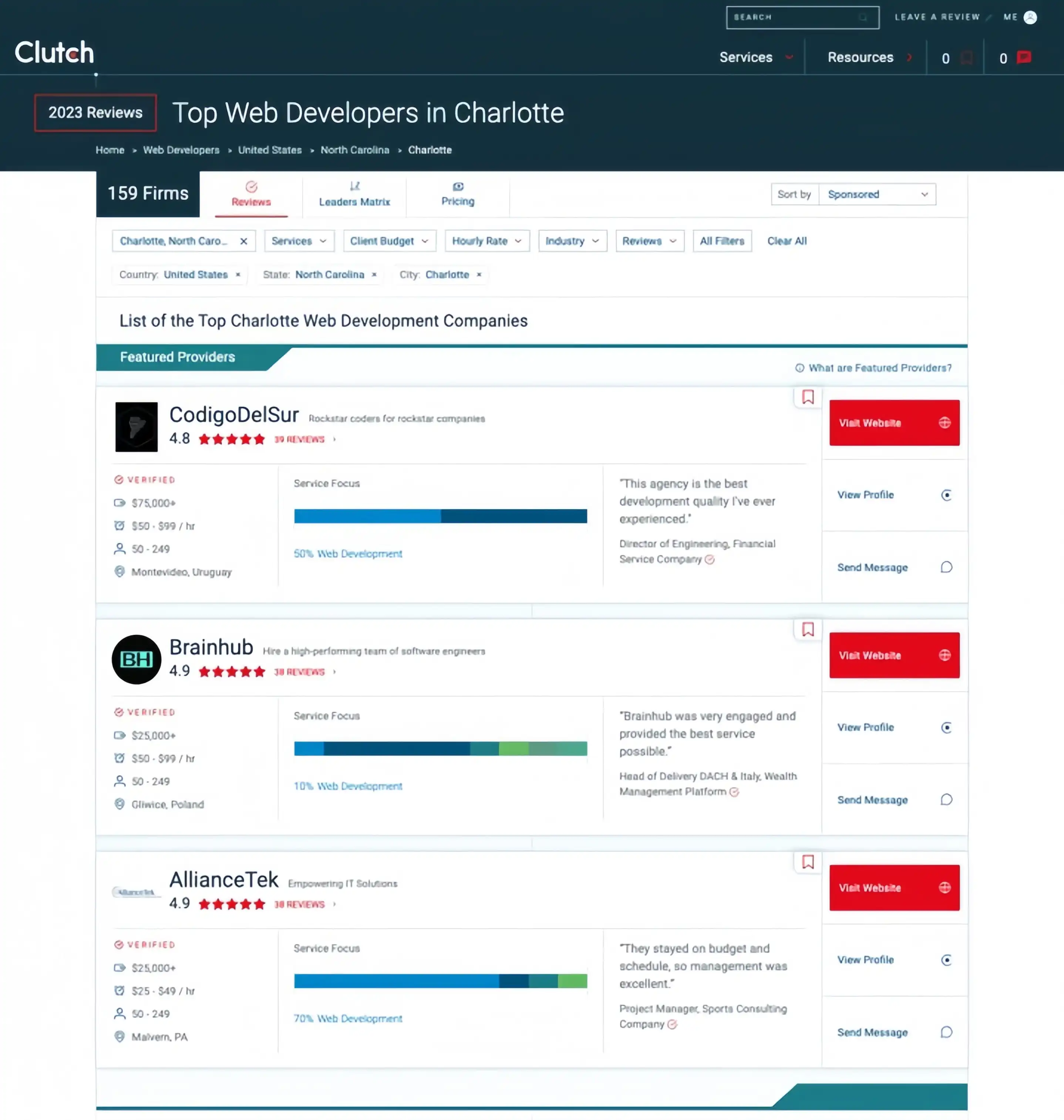 Awards Clutch
Clutch Leader Award
Throughout the year, Clutch recognizes the most effective B2B companies across a variety of factors with a Leader award.
Benefits of being a Leader include:
Brand recognition as a leading company in your industry.
Communication with journalists through more than 400 news outlets.
Marketing opportunities such as badges and social media promotion.
Third-party validated commitment to client success and quality work.
Inbound leads.
For the opportunity to receive the Clutch Leader Award you need to:
Have a Clutch profile.
Submit client testimonials.
The Clutch 100
The Clutch 100 is a unique opportunity for B2B service providers to be recognized by Clutch based on their financial success.
Each year, Clutch highlights the 100 fastest growing companies in the world and the top 100 sustainable growth companies based on financial data provided by the companies.
To participate, you must submit a form that must be signed by your CEO and a licensed professional responsible for the organization's payroll and accounting. Clutch defines revenue as gross revenue, less returns and allowances, before any cost of goods sold. Clutch will not publish the reported revenue figures, but will share the revenue growth rate for each company that will be publicly reported.
Clutch Badges
A badge is a sticker that links back to your profile. Tell clients that your clients say you deliver by embedding a badge on your site or in your email signature.

To qualify for the best Clutch company badge, you must rank in the top 15 on the Clutch directory page when sorted by Clutch Rank.
Reviews are the most important factor in determining your ranking, so it's important to start getting more positive reviews from your clients.
In your profile dashboard, you can find the Badges section and search for badges available to you, download them and share them.
Widget Clutch
A widget is a dynamic iframe that updates automatically. It's a valid application that updates on your site in real time, so your reviews are always accurate. Use widgets. They link to your Clutch profile, giving people easy access to all of your information.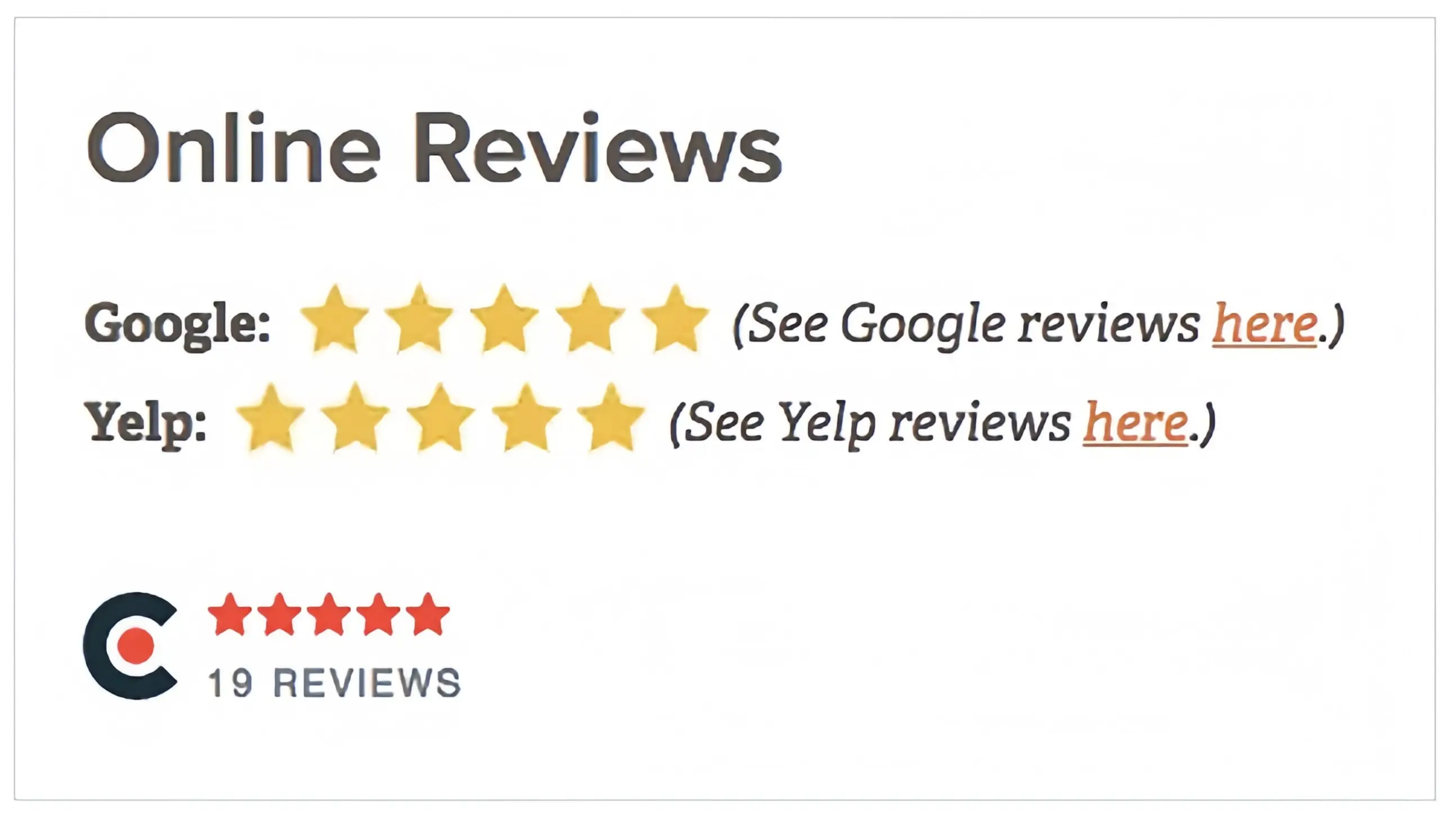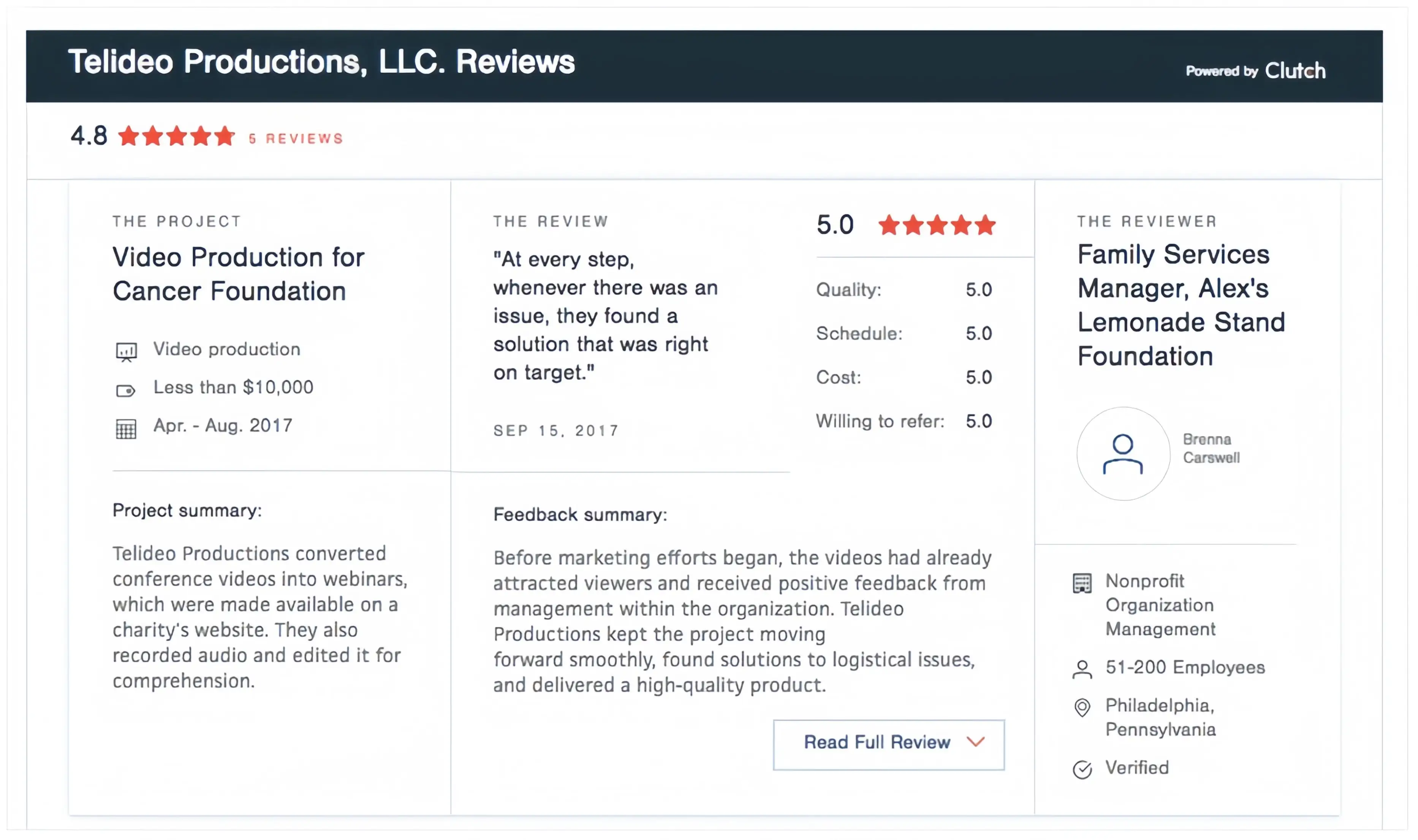 Alternatives to Clutch
Clutch is the leading directory, but there are other platforms that perform similar functions, offering IT companies opportunities to develop recognition and get new clients.
Alternatives Clutch:
You can choose to work only with the top catalogs, or you can work with many and monitor the effectiveness of each of them. Do not forget that there are new catalogs and new opportunities in the already known, it is worth monitoring the offerings of catalogs to maintain the visibility of your company on the Internet.
Conclusion
Don't ignore Clutch opportunities for your company. Directory listings are useful for established IT companies and start-ups alike. Use this simple and useful marketing tool for your business. Take advantage of the opportunity to find clients all over the world and strengthen your position among many developer companies.
Make sure you get found — create a profile on Clutch.
Contact us and learn more about marketing to grow your software company.